Services Offered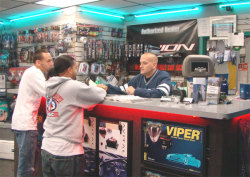 For more than 16 years, Boss Audio has been New Jersey's solution for affordable car electronics and customization products. We use our extensive knowledge and experience to help our customers find the car audio accessories, GPS navigation systems, car alarms, and marine electronics they need to get the driving experience they've always dreamed of at budget-friendly prices. If you're looking to enhance your vehicle with aftermarket mobile electronics, window tinting, or truck accessories, Boss Audio is your source for quality components, expert installation, and fair pricing. Call today or visit our shop in Perth Amboy to learn more about our marine and car customization!
Mobile Electronics
Boss Audio offers so much more than basic aftermarket car stereos. We're a full-service mobile electronics sales and installation resource: from basic car alarms to complex mobile video arrays to car GPS to remote starters, we have what you need to customize your vehicle to perfectly suit your needs. As our name implies, we're car audio experts, but we also have extensive knowledge and experience with all other car electronics, including in-dash navigation systems, iPod integration, Bluetooth integration, and much more. Our car audio/video specialists will put our decades' worth of experience to work for you, ensuring that your every need is met. Some of the many systems we offer include:
Car alarms
Remote starters
iPod integration
Bluetooth integration
Mobile video
Handheld and in-dash navigation systems
Car audio
Marine stereos
And more!
Whether you're looking for a car alarm that will keep your vehicle safe and secure or an in-car DVD player to keep the kids entertained on long trips, Boss Audio has you covered.
Affordable Customization
At Boss Audio, we take great pride in offering components from the leading mobile electronics and aftermarket equipment manufacturers to ensure you get the best products possible. Our brands include:
Accele
Directed Electronics
Falcon
Go Rhino
Johnson Window Film
Kenwood
Kicker
Myron Davis
Orion
Pioneer
Putco
Rota
Structure
TSW
Weston
In addition to our variety of car stereo and security systems, Boss Audio also offers a wide range of options for vehicle customization, including automotive window tinting and a full stock of truck accessories. Whether you need a new hitch for your pickup or you're looking for professional window tinting that will enhance the aesthetic value of your car, we're the team to call in Middlesex County.

Keep in mind, mobile audio doesn't just apply to cars anymore—today's technology means you can take your tunes wherever you go, including on your boat. Boss Audio is a skilled marine electronics installer, and we have the components and installation expertise to bring you a great marine audio video setup. Whether you're looking for a simple boat stereo or an all-out marine electronics experience, we're ready to help you with competent, correct marine audio installation.
Reliable Installation
The performance of your mobile electronics and other customization options depends on the quality of its installation. When you want to make sure you receive top-notch performance from your car stereo, GPS system, or vehicle security system, call the pros at Boss Audio. With over 16 years of industry experience, our highly trained technicians have the knowledge and skill to complete almost any installation with precision to ensure that you receive the best possible results from your system well into the future. Call or e-mail us to schedule your install today!
Se habla espanol.